Accessories are a perfect way to insert your personal style into the home or workspace. The right ornaments will help balance the design of a room, bring a final touch to your interiors or add character into uninspiring corners of the house. The way you decorate your home also impacts how comfortable and harmonious it feels.
Palacina Interiors has a range of unique, locally crafted items and carefully sourced contemporary pieces from around the world. Whatever your taste, our accessories will help tie together the various elements of your rooms in a well-coordinated fashion.
Add some wow factor to your home with our range of wrought-iron and art deco mirrors, some of them handmade by our team of talented artisans. Designed in gold, silver, brushed metals and wooden frames, they are both decorative and functional. Light-bouncing off the oversize mirrors brightens up a room and expands the feel of a space.
Freshen up boring wall space with our stunning, hand-crafted wall panels. Canvas artworks create a classic look to home or office interiors. Leather rugs and faux fur throws convey an air of luxury to any room. Or perhaps you prefer a cultural touch with our selection of traditional winnowing baskets.
Dress up your dining tables with chic centerpieces, gorgeous silk flower bouquets or soy wax candles which last longer and burn cleaner than regular candles. Faux houseplants and floral stems bring a touch of greenery indoors. They are realistic looking and very low maintenance. A variety of modern planter pots come in different shapes, sizes and neutral colours, and can be used indoors or in shaded outdoor areas.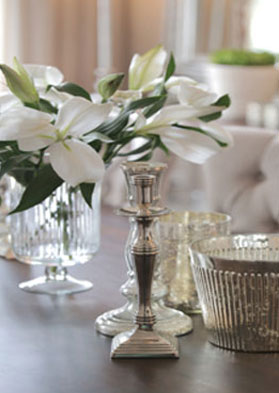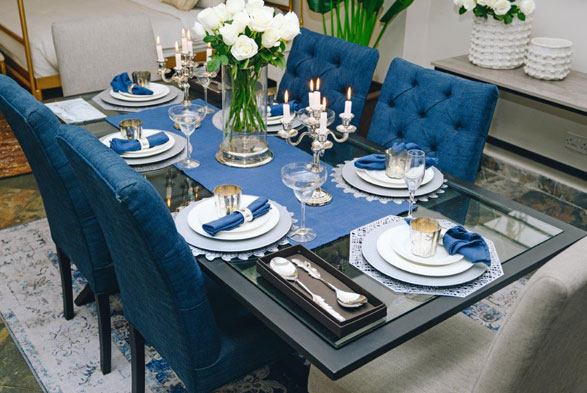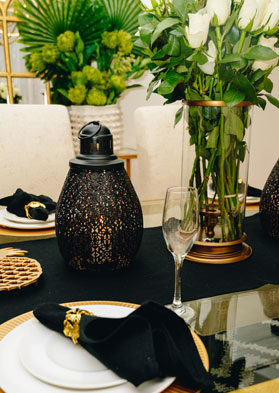 A cherished object will have pride of place one of our architectural plinths and precious mementos are nicely elevated with a display riser. A sturdy, attractive bookcase can be used to house your treasured art pieces, family pictures or favourite old CDs and records. Our stylish, free-standing wrought-iron display cases transform any space while presenting your carefully chosen accessories to maximum effect. Chic desk lamps are both versatile and practical for good working or reading light.
At the Grand Showroom, open from Monday to Saturday, is a marvelous selection of gift items for birthdays, weddings and special occasions. Our accessories collection has photo frames, contemporary clocks, flower vases, candle holders and lanterns, decorative trays, ornamental boxes, bookends, elegant beverage dispensers and other quirky pieces in different designs, colours and finishes.
Create your wedding gift registry from our range of beautiful home adornments. Gift wrapping services are provided at no extra charge. With over twenty years of experience in commissioning bespoke items from around the world, you are unlikely to find the same things locally.
Whatever interior ideas you have, we will get you to the finishing line with the best final touches. If you are not sure how to go about accessorizing your home, our professional interior designers will help you to choose the ideal adornments for different spaces.
For more information, please contact Palacina Interiors at sales@palacinainteriors.com
or speak with us at +254-729-123-456