Bedrooms Designs the Palacina Interiors Way
As one of the most personal spaces in the house, the bedroom should be a haven of serenity and beauty. At Palacina Interiors we can help transform your sleeping rooms into stylish places of relaxation, comfort and peaceful energy.
Whether you want a modern look, Baroque style, traditional interiors, or African-inspired themes, or to design a holiday home, show house or children's room, Palacina Interiors will help you realize your bedroom ideas. With twenty years of design experience in the hospitality sector, we can install bedrooms in resort hotels, luxury lodges and safari camps that reflect the location and character of a property.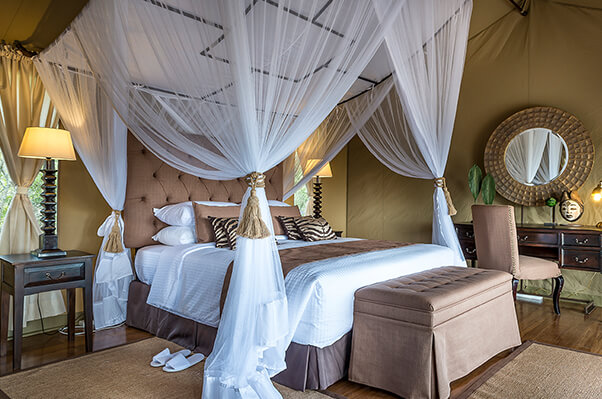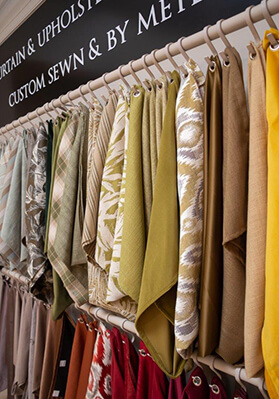 Our team of professional designers is happy to guide you on styling your intimate spaces and creating blissful bedrooms. Most of our bedroom furnishings are designed in Kenya and handmade by local craftsmen to world-class standards. They can be customised to size and personal preference and the pieces are unique to Palacina Interiors.
Upgrade your bedroom with our elegant, wrought-iron canopy beds that come in several colours, all proudly made in Kenya. The range of fabric headboards at Palacina Interiors is unrivalled anywhere else, with styles from padded and studded to carved wood and velvet finishes. Or you can commission a bespoke bed style and headboard to your particular taste. Complete the bed set with our selection of beddings, pillows, mattresses and soft furnishings.
Our top-quality fabrics bring a luxurious touch to bed runners, decorative cushions, bed throws and upholstered bedroom benches. We also custom-make elegant bed nets using high-quality polyester mesh.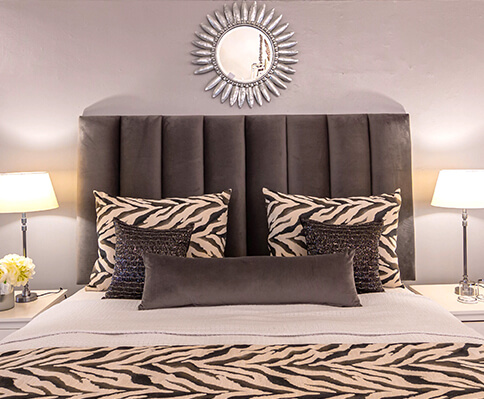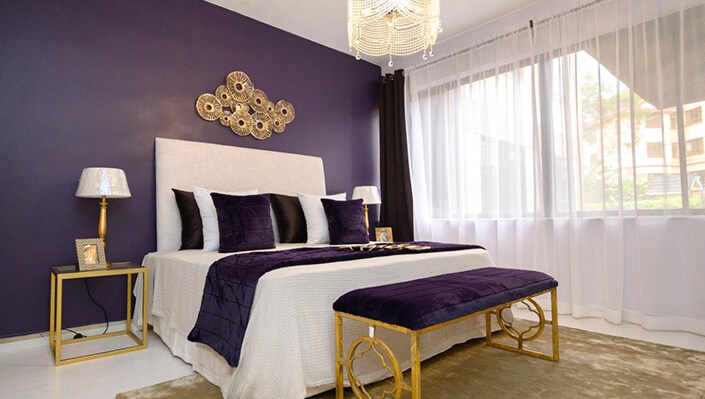 An assortment of curtain fabrics and sheers from our windows collection will enhance or soften the mood of your bedrooms. Our window dressings come with curtain rods, rails, blinds, headings and blackouts, and curtain sewing services are provided by our in-house team.
Good lighting is an essential aspect of a bedroom's mood, comfort, spatial dimensions and good sleep. The wide selection of lamps and light fixtures at Palacina Interiors are both decorative and functional. Customised lampshades let you choose a style and fabrics that complement your bedroom furnishings.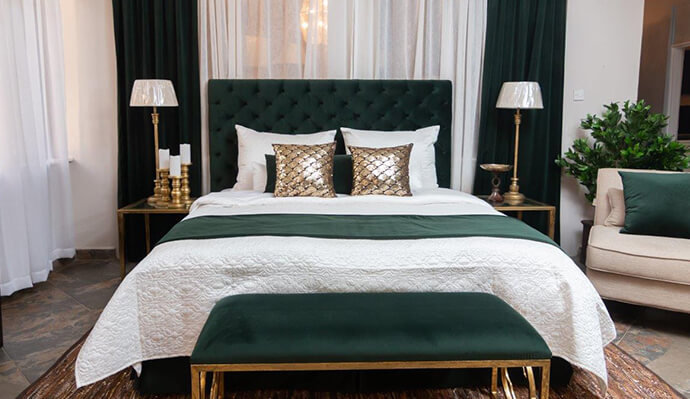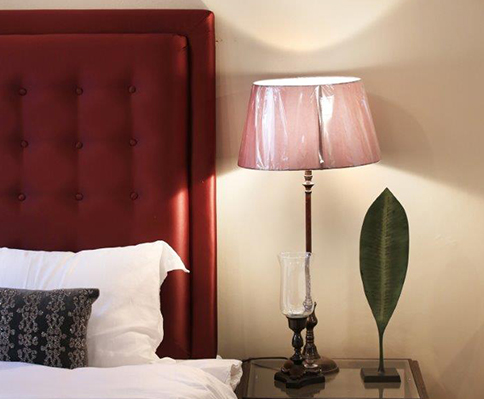 From the paint centre, clients can choose from a vast range of wall paints, and our design professionals are on hand to recommend colour combinations that enhance the look of your bedrooms.
Perhaps you are simply in need of some stylish décor to uplift your bedroom. Palacina Interiors has a range of unique accessories crafted in-house or specially sourced from small-scale artisans in Kenya and overseas. Choose from our eclectic range of décor, bedside furniture, wall hangings, arty mirrors, ornaments and vases.
Pay a visit to the Grand Showroom on Kitale Lane, off Dennis Pritt Road, to see curated bedroom setups, get some remodelling ideas, shop for trendy statement pieces or have a one-to-one consultation with a designer. Included in our bedroom designing services is a complementary site inspection at your home and furniture delivery.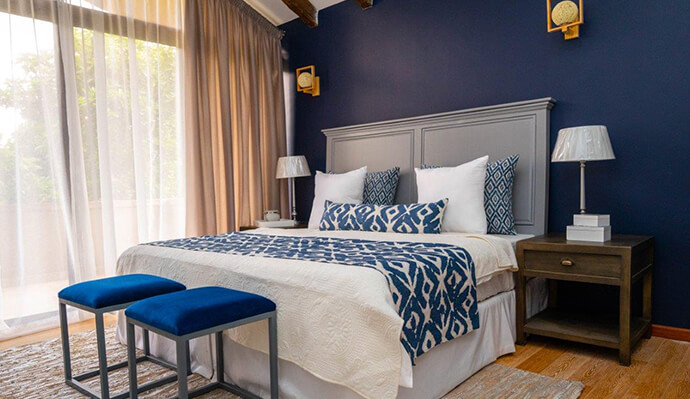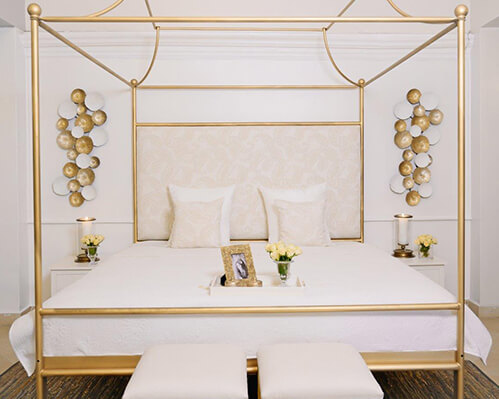 With a range of unique, custom-designed products and services, Palacina Interiors is a one-stop shop for all of your bedroom dreams. For more information or to book an appointment with one of our interior designers, reach us at:
Tel: 0729123456